Brandon and I met at The Fort in Morrison and headed down 285 to Montrose. Traffic was light and other than a few 1 lane road sections in construction zones, we made good time. About 60 miles out of Montrose, Brandon radioed that he was getting low on gas. Since I was good on gas and had 5 gallons in my Jerry can, Brandon decided to try some hyper-mileing techniques. But we made it without cracking into my reserve.
My passengers for the weekend: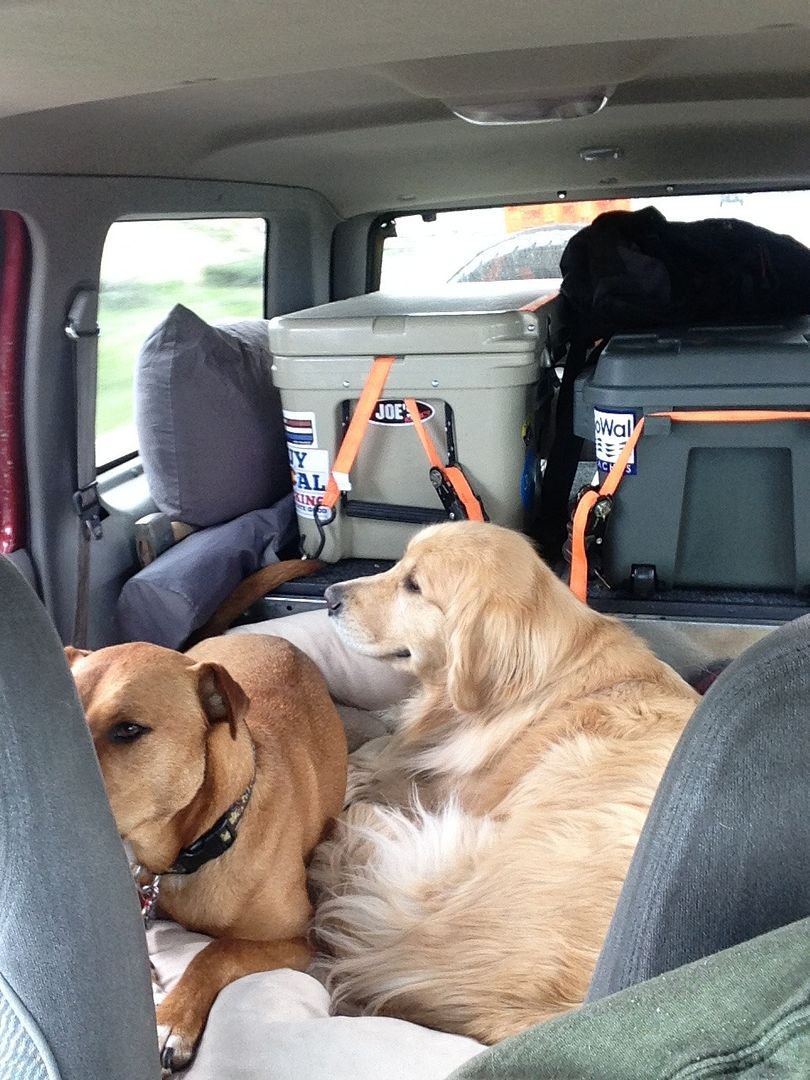 The start of the trail is just outside out town. We were immediately greeted with an electronic road sign saying that the road ahead was closed due to a mudslide. But we had gone all that way, we weren't going to turn around because of what some sign said: it could be out of date. We pressed on.
We climbed quickly and thankfully it cooled off some. The roads were fast and very dusty.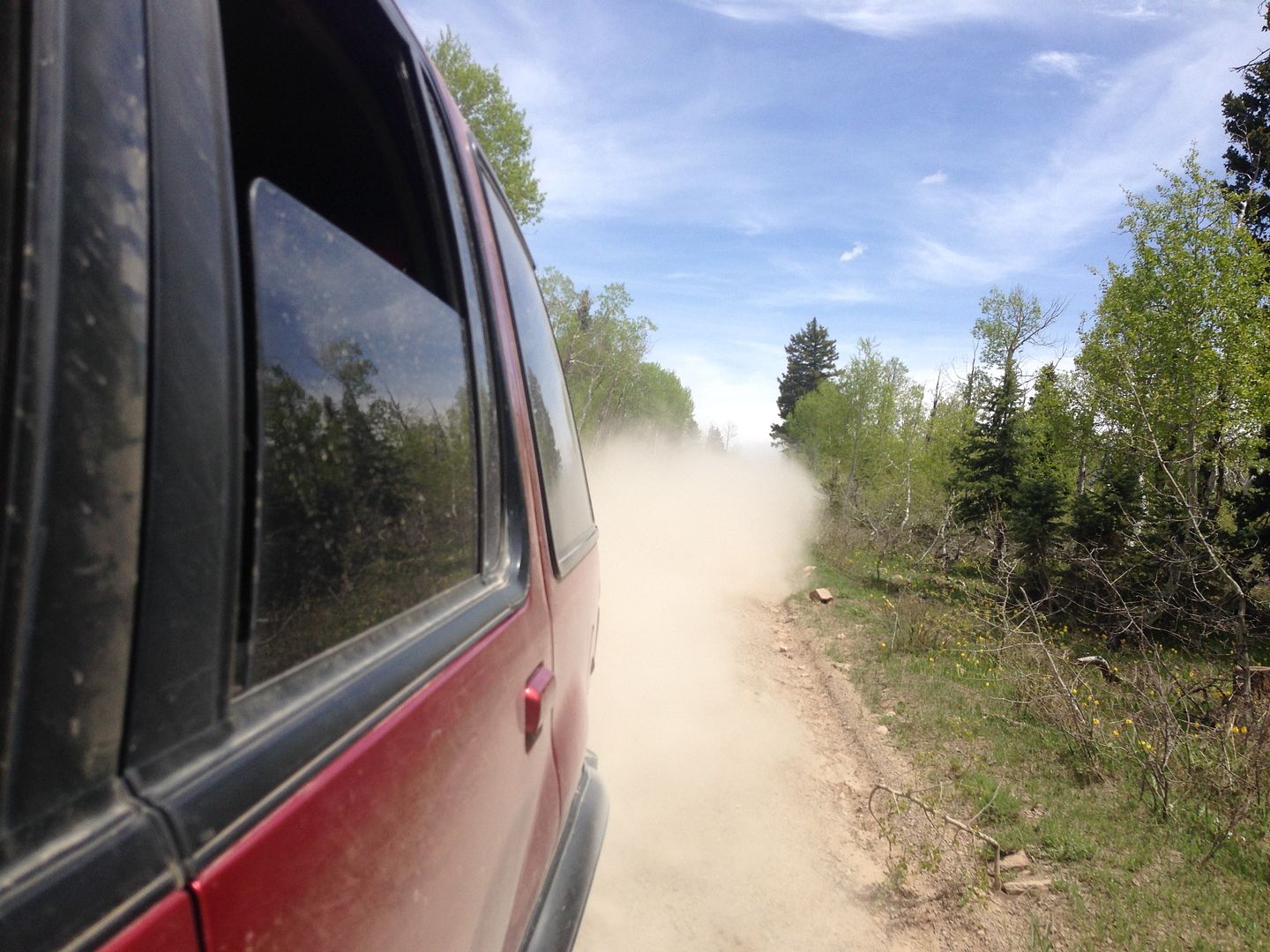 We were constantly in and out of open cattle ranges: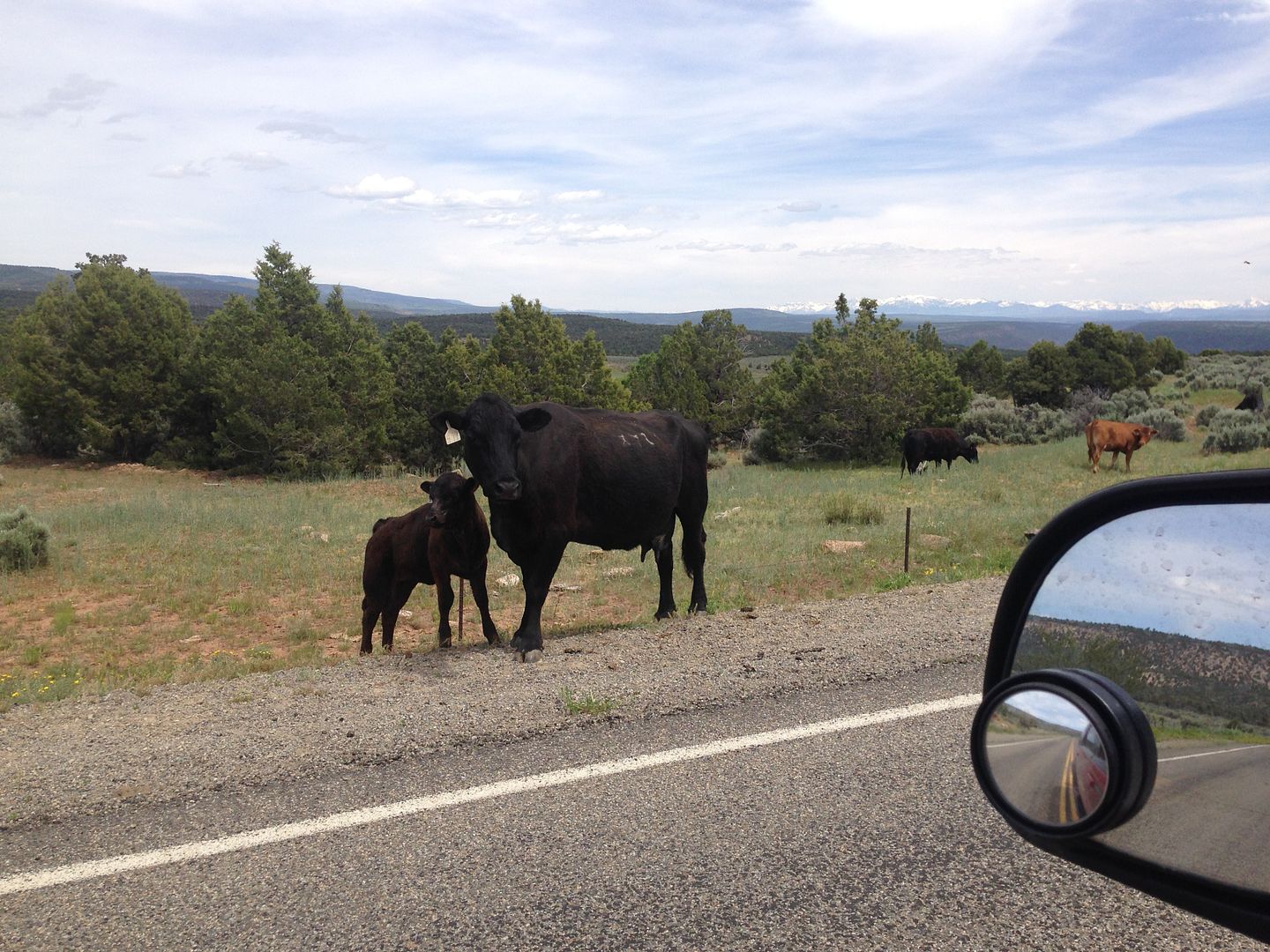 The smell always got my dog's attention:
I didn't take many pictures as there wasn't really all that much to take pictures of. Most of this trail is dirt but there was a few miles of pavement. We went through the town of Nucla. Brandon was eyeing up some real estate. The town was deserted- but yet still lived in.
It wasn't long before we got to the Dalores River crossing.
I studied the videos of others crossing and the river looked to be about the same- if not down a little.
Since Brandon was leading, he went first: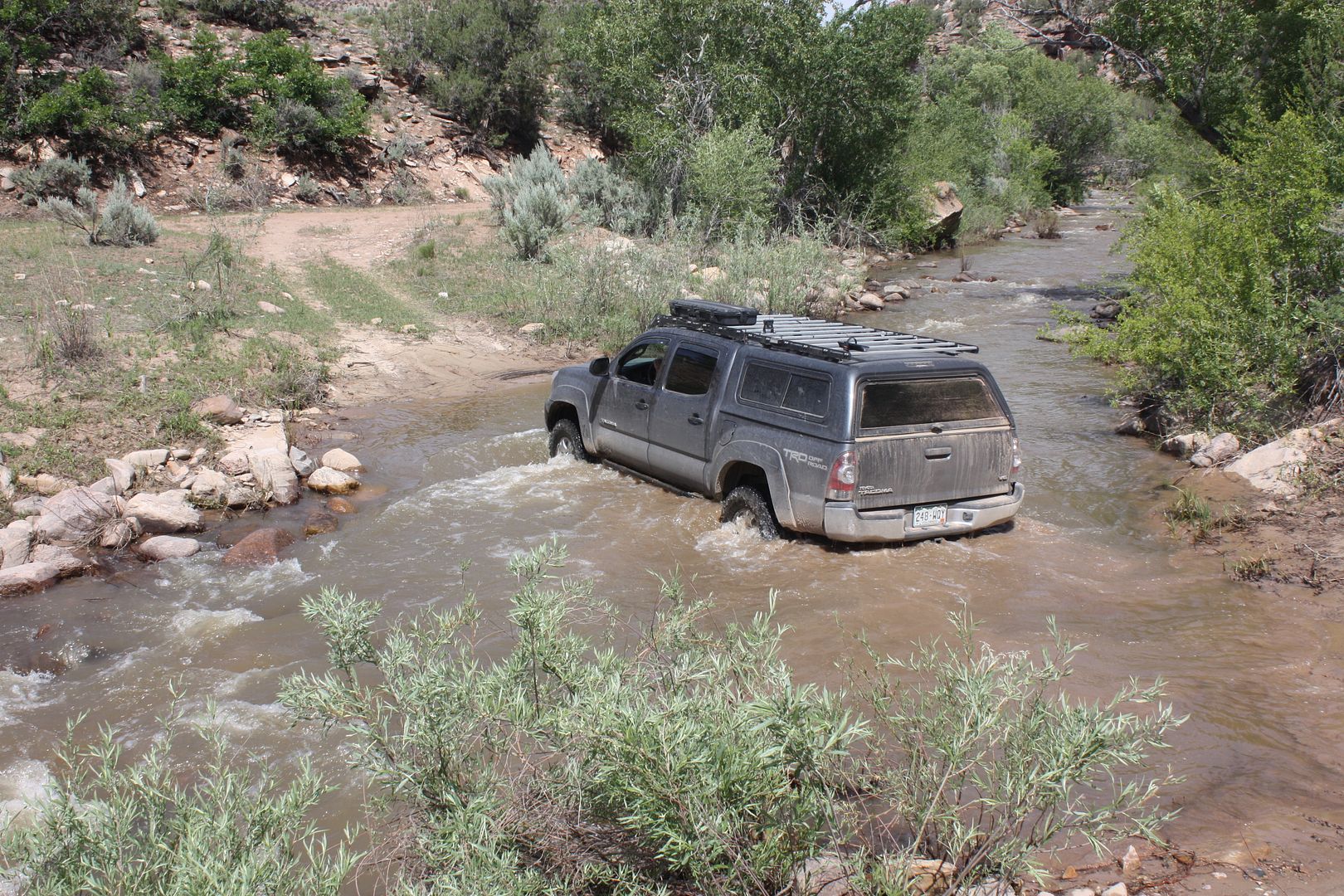 Then it was my turn:
Then Brandon went again: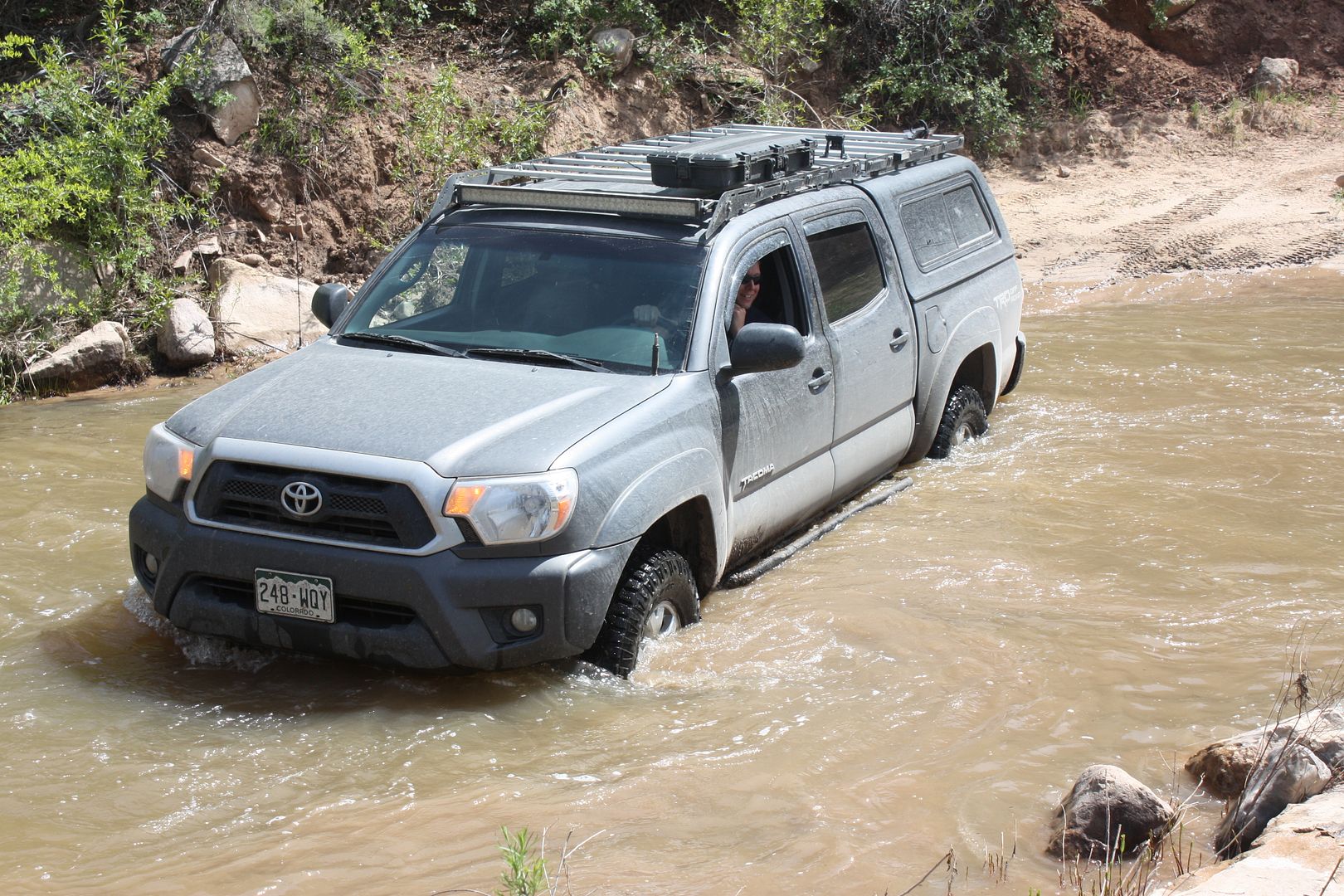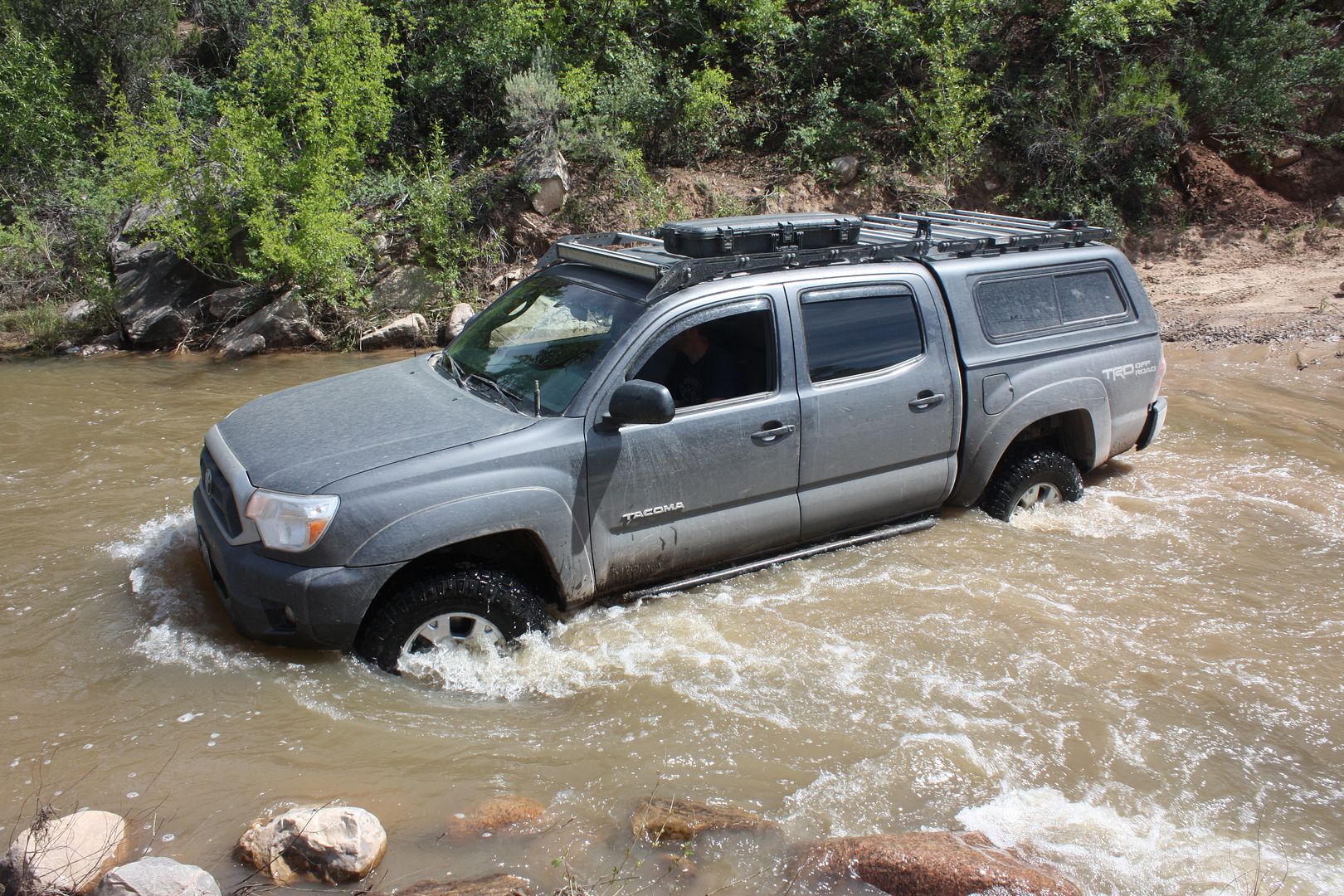 At some point we passed the second camp site of the Paradox Trip last spring.
The only other part of the trail I was remotely worried about was a spot that I read was blocked by a rock that had fallen onto the trail and forced vehicles off to a very soft shoulder over the Paradox Valley. When we got there, it had been winched off to the side:
The trail's namesake: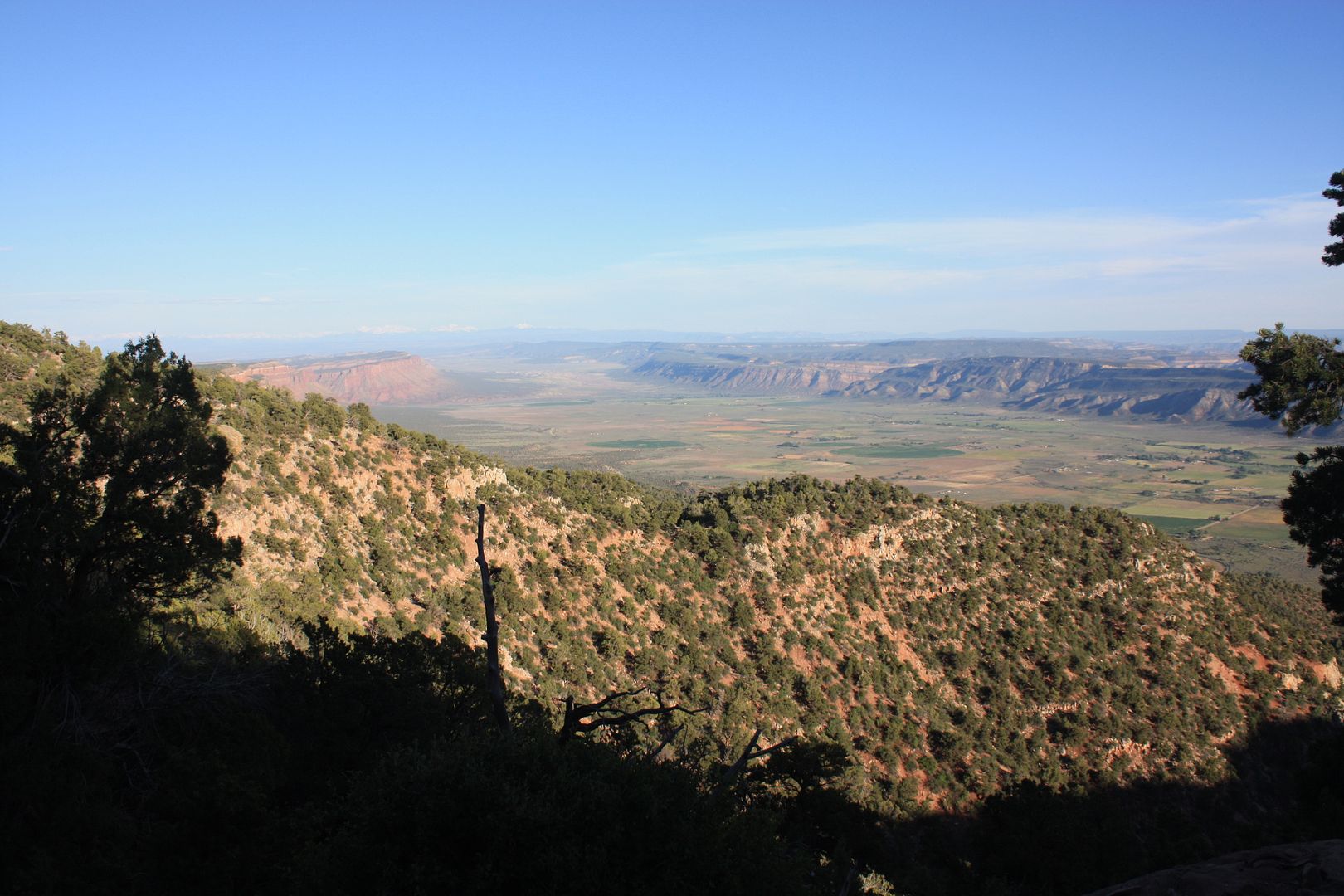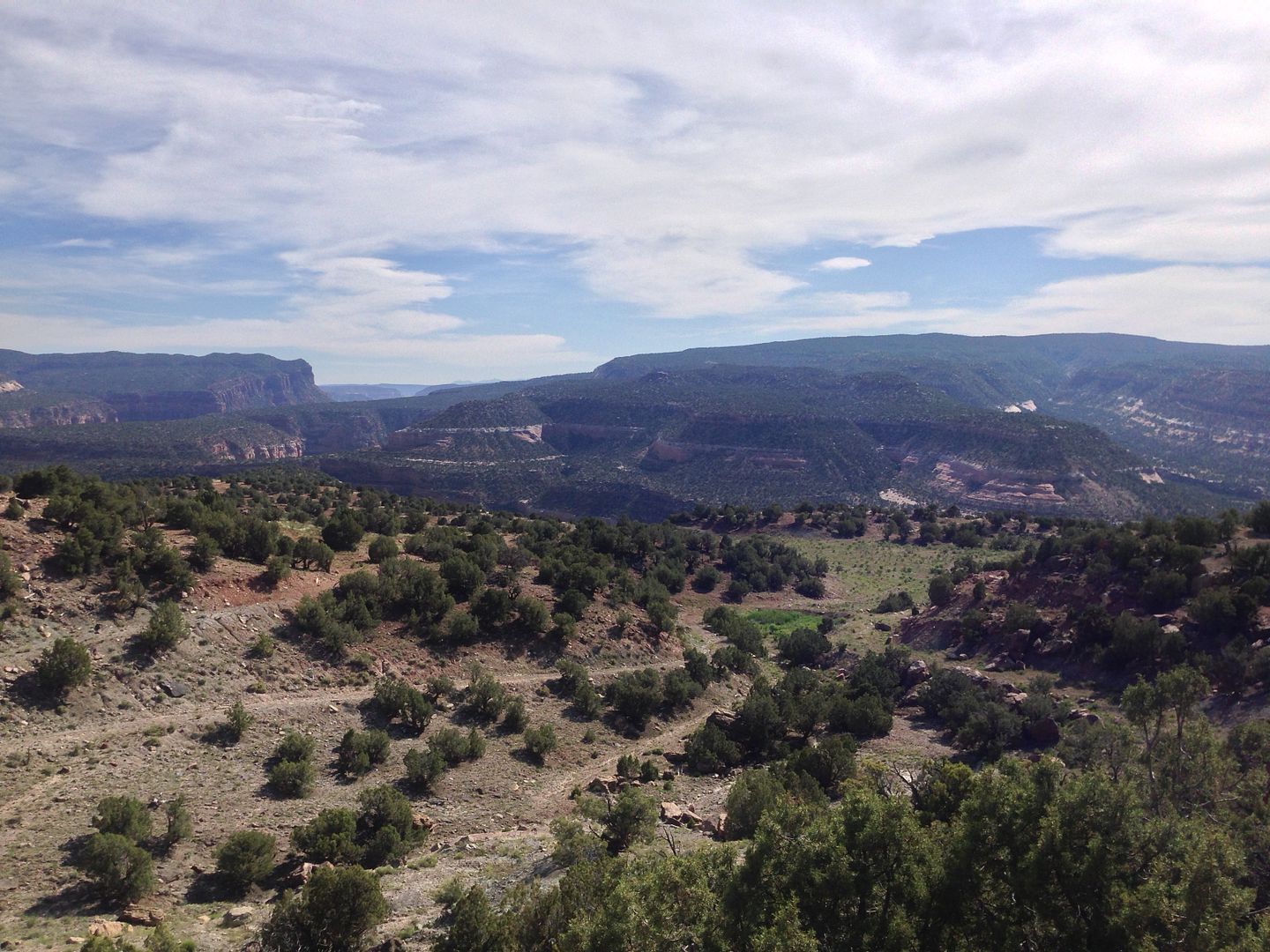 We kept pushing on. I wanted to get closer to the CO/UT boarder before making camp for the night because I knew we would be passing through wooded areas and out of the desert that we were in. And it wasn't long before we passed the first campsite on the Paradox Trail from last spring. Now I remembered the trip last spring and we were moving most of the day. We did do some back tracking but Brandon and I had passed both campsites in a matter of a couple hours.
We eventually found a spot to camp right off the trail not too far from the UT border. Not a single person drove passed while we were there. Very quiet- except for the breaking branch we heard just beyond our light sometime after dark. It was probably a deer but we joked about bears tearing Brandon's face off as he slept out in the open on top of his truck.
The next morning we hit the trail again and it wasn't long until we hit the border. Not all border signs are bid and fancy:
When you hear people refer to this part of the country as "fly over country", this is what they are missing: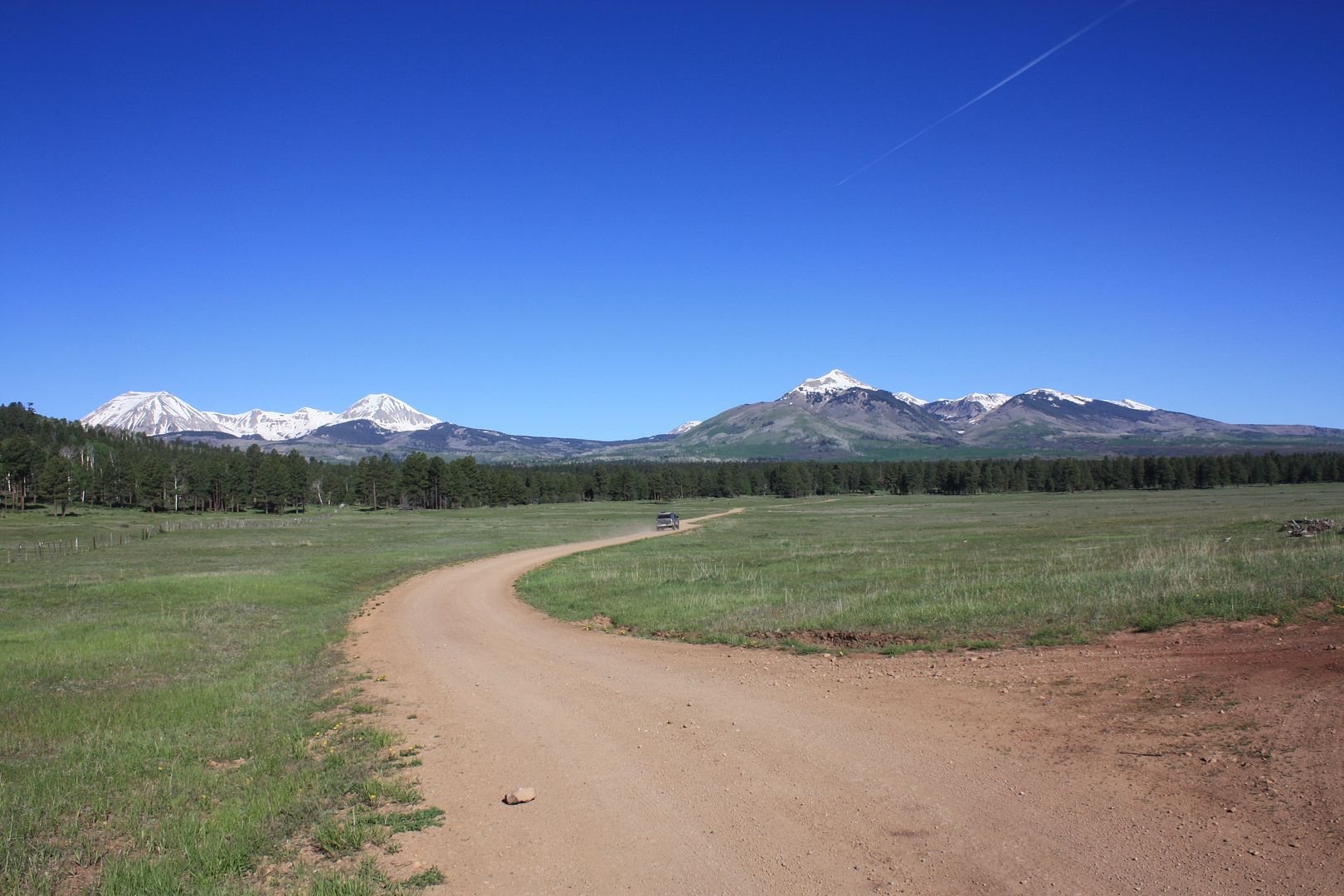 I did stop for a couple poser shots: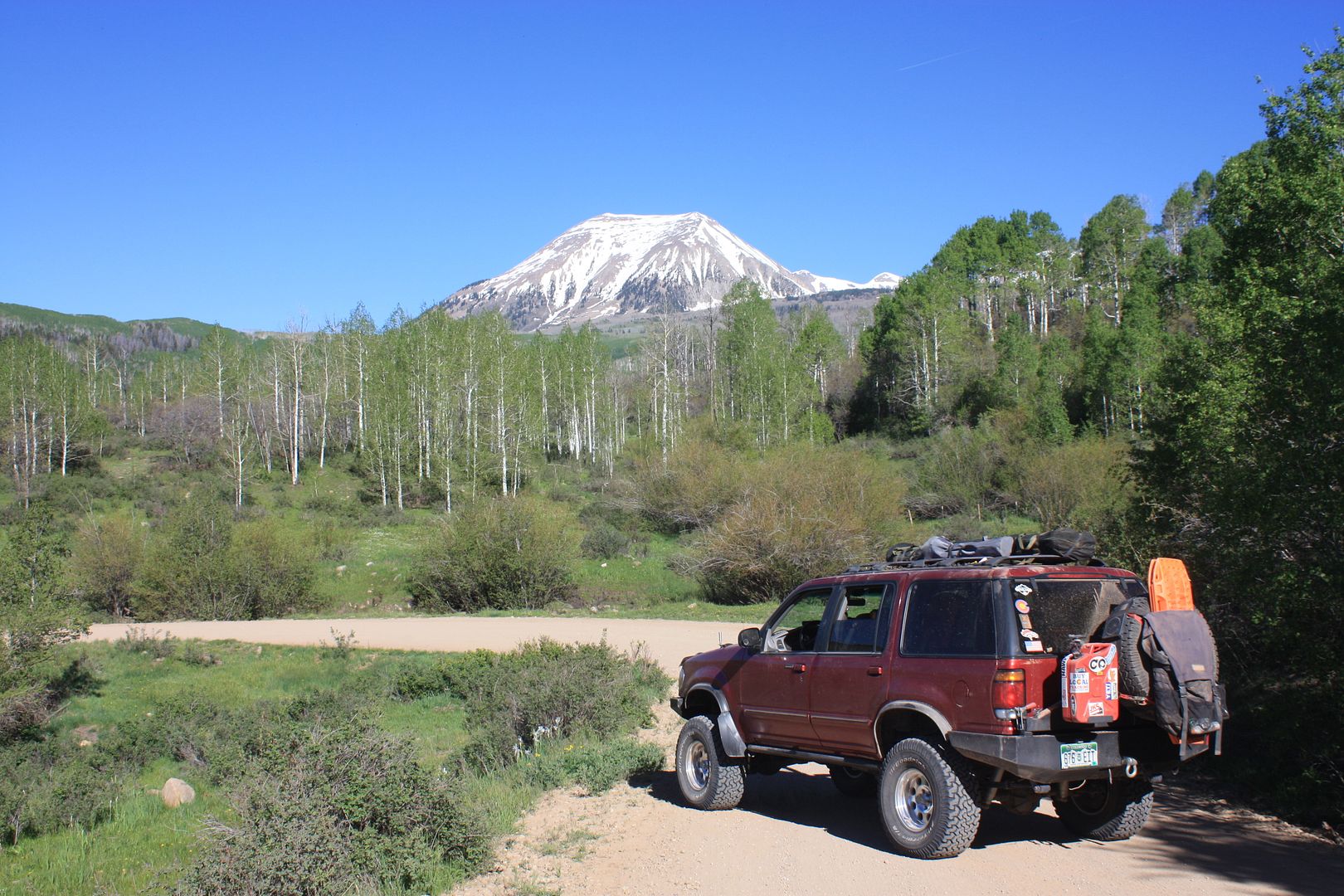 More fly over country: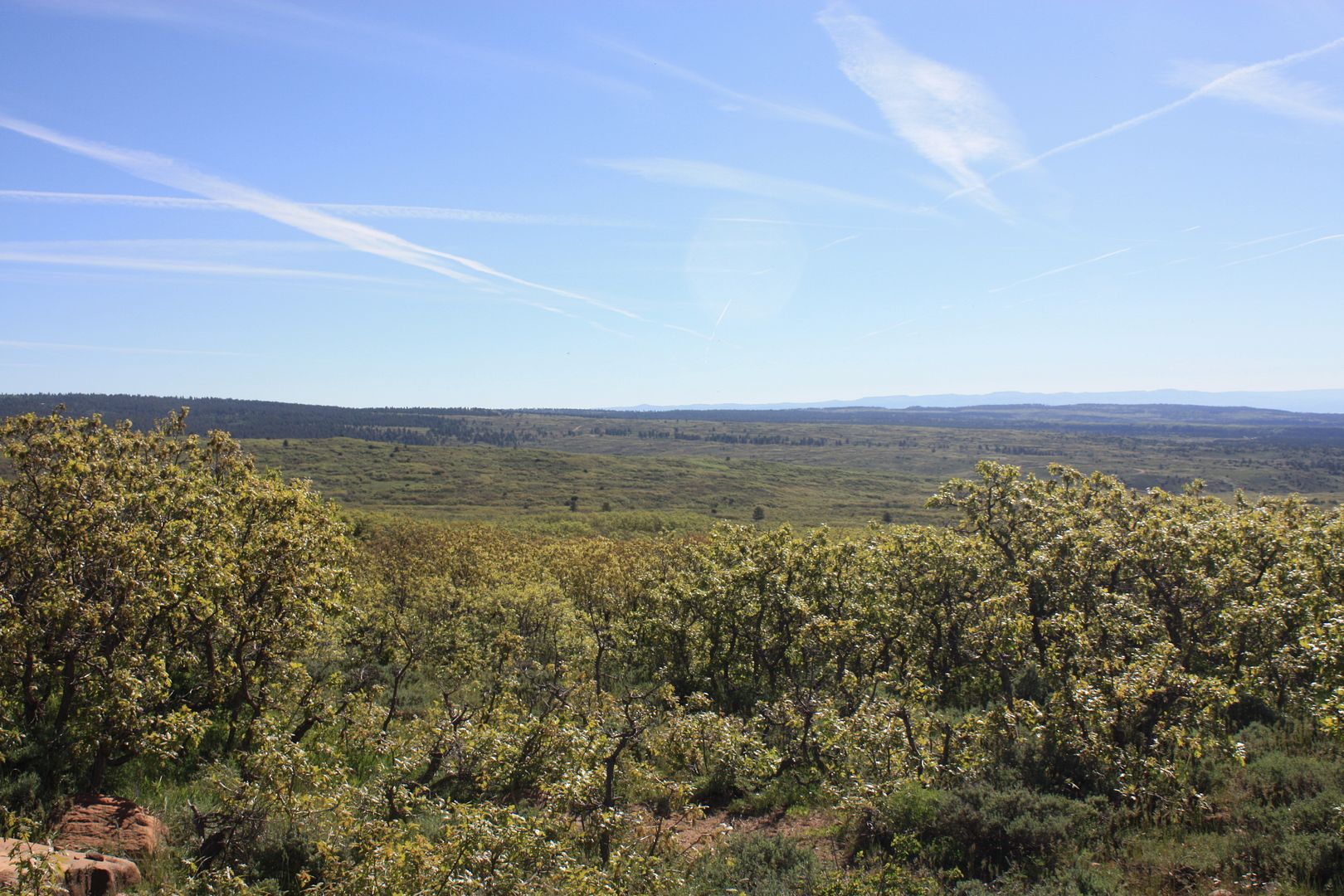 We got to Moab around noon but it was about 100 degrees. The thought of camping near this heat wasn't appealing from me. And my passengers agreed. I showed Brandon Onion Creek and what the Top of the World overlook looks like from the bottom: it's still scary. Brandon decided to hang out a little longer but I headed back.
Brandon took about a billion pictures so I'm sure he'll have something to share.